Max Volt Performance Ignition Systems
Max Volt Catalytic Eliminator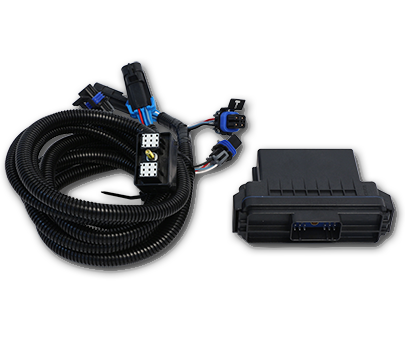 #121-1200
If increased engine performance is what you are after but have concerns about the catalyst equipment on your engine, then the Catalytic Eliminator Computer (CEC) is what you need! Designed specifically for marine engines, Maxvolt Performance worked with a team of marine electrical engineers to create a product this simple and gets the job done. There is no cutting or splicing of wires; everything is plug and play! And there are three ways to play! Your engine can be Aggressive, Mild, or Basic:
Aggressive: If you want to be aggressive and replace your stock exhaust system with a header system, then this is the product for you. We worked with the header design teams at Hardin Marine and other popular manufacturers to be sure their headers are manufactured to work with CEC. To be compatible, the header must be made to accept a pre-oxygen sensor!
Mild: If changing over to headers is too aggressive for you, then removing the catalysts but retaining the stock exhaust manifolds is the path for you. Depending on the engine, 10 to 15 horsepower will be gained by removing the catalysts and using the factory exhaust system.
Basic: If your boat has fouled its post oxygen sensors and is no longer under the factory warranty, then you know what it costs to have new sensors installed and the trouble codes cleared. For less than what your dealer charged, you can purchase and install the CEC and never have to worry about throwing that fault code again!
WARNING!
This module is not to be used on emissions regulated waterways. The intent of this module is to allow the running of a catalyzed marine engine without the catalytic converters installed and without triggering any ECU error codes. With the engine operating in this condition, the emissions control system will be rendered inoperative. For this reason, do not operate the vessel on emissions regulated waterways. This computer system is not legal for any purpose other than testing purposes and not for use on any state or federal waterway.
Specifications:
| | |
| --- | --- |
| Box Dimensions: | 4" Wide x 4.25" Long x 1" Tall |
| Package Contents: | (1) Catalytic Eliminator Computer, (2) Wire Harnesses, (1) Set of Instructions |